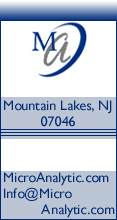 About Us
Micro Analytic Products, Inc. was founded in 1978 for the purpose of designing and manufacturing electronic devices. Since that time, Micro Analytic has provided equipment for Industrial control, Digital Equipment Corporation, Computer Automation Incorporated and Telecommunications platforms. Our hardware can be found on products spanning from blood analyzers to railroad signal controls and sound mixing consoles.

Micro Analytic continues to provide new and innovative products and design services. Engineering expertise in micro-controller, bit slice and state machine controls are of specialty. Micro Analytic also provides Dialogic telephone platform applications development services. Micro Analytic is a privately held New Jersey Corporation based in Mt. Lakes, NJ.

Now that you know a little about Micro Analytic Products, you can view our Product Catalogue, Order products, or Contact Us.